First Bell 407GXP Purchased in India
Bell Helicopter hosted Premair at Bell Helicopter's India Office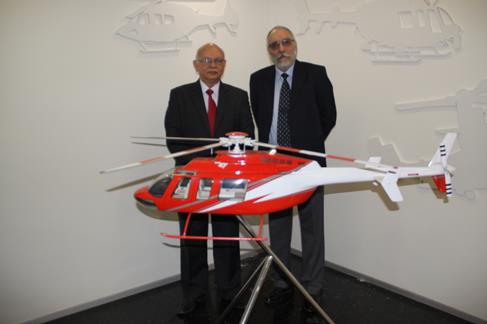 Left to Right: Bell Helicopter's Managing Director of India, B. S. Singh Deo, and Premair's Director of Operations, H. S. Waraich
SINGAPORE  – Bell helicopter, a Textron Inc. (NYSE: TXT) company, announced the first Bell 407 GXP purchase in India by Premair, an air charter management company. The aircraft will be outfitted for corporate and VIP transport throughout the region and delivered to the customer later this year.
The Bell 407GXP was signed for at Bell Helicopter's India office and Premair will be the first to operate this aircraft throughout India.
"We are thrilled to be the first in India to purchase the new Bell 407GXP," said Mr. H.S. Waraich. "The luxurious interior, combined with the smooth, quiet performance of the aircraft is exactly what we were looking for to quickly and comfortably transfer our customers and clients throughout the region."
Premair, a unit of Afimac Associates Private Limited, is based in Delhi, India, and has more than 15 years of experience in aviation and provides 24/7 aviation related services to customers. The company can arrange aircraft throughout India on short notice.
"Requirements for hot and high performance remain a key element for operations throughout India, and the enhanced payload, heightened capability and safety margins, along with the fully integrated glass cockpit of the Bell 407GXP were the exact fit for our customer's needs," said Sameer A. Rehman, managing director, Asia Pacific. "We are delighted to continue our support of Premair's operations and look forward to delivering the Bell 407GXP."
Derived from the Bell 407GX platform, the Bell 407GXP has an additional 50 lbs (22.5 kg) of payload capability, coupled with the new M250 Rolls-Royce engine that improves performance and fuel efficiency delivering class leading hot and high performance. The aircraft is also equipped with new avionics features such as a hover performance calculator improvement, as well as a transmission TBO extension of +500 hours that is expected to lower maintenance costs.
About Bell Helicopter
Bell Helicopter, a wholly owned subsidiary of Textron Inc., is an industry-leading producer of commercial and military, manned and unmanned vertical-lift aircraft and the pioneer of the revolutionary tiltrotor aircraft. Globally recognized for world-class customer service, innovation and superior quality, Bell's global workforce serves customers flying Bell aircraft in more than 120 countries. 
About Textron Inc.
Textron Inc. is a multi-industry company that leverages its global network of aircraft, defense, industrial and finance businesses to provide customers with innovative solutions and services. Textron is known around the world for its powerful brands such as Bell Helicopter, Cessna, Beechcraft, Hawker, Jacobsen, Kautex, Lycoming, E-Z-GO, Greenlee, Textron Systems and TRU Simulation + Training. For more information, visitwww.textron.com.
Certain statements in this press release are forward-looking statements which may project revenues or describe strategies, goals, outlook or other non-historical matters; these statements speak only as of the date on which they are made, and we undertake no obligation to update or revise any forward-looking statements. These statements are subject to known and unknown risks, uncertainties, and other factors that may cause our actual results to differ materially from those expressed or implied by such forward-looking statements, including, but not limited to, changes in aircraft delivery schedules or cancellations or deferrals of orders; our ability to keep pace with our competitors in the introduction of new products and upgrades with features and technologies desired by our customers;  changes in government regulations or policies on the export and import of commercial products; volatility in the global economy or changes in worldwide political conditions that adversely impact demand for our products; volatility in interest rates or foreign exchange rates; risks related to our international business, including relying on joint venture partners, subcontractors, suppliers, representatives, consultants and other business partners in connection with international business, including in emerging market countries.
Press Contact:- LINDSEY VIOTTO, S.S.Chadha WINGS CHAMBER