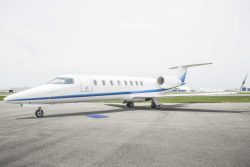 Satcom Directsupports Skyservice to generate first Supplemental Type Certificate (STC) for SD Data Link Unit upgrade for Learjet45
Melbourne, Florida/ 6February 2019 – The Transport Canada Civil Aviation (TCCA) authority has awarded Skyservice Business Aviation an STC for installation of the Satcom DirectDataLink Unit (DLU) upgrade on the Learjet 45 type. SD supported Skyservice through the TCCA STC process, and with the EASA and FAAsubmissions whoseapprovalsare expected in the second quarter of 2019.
Of the three Skyservice Learjet 45 aircraft,one is already benefitting from the system installation, with the next two scheduled for SD DLU upgrade in early 2019. Upon completion,the installations will supportCPDLC (FANS1/A and ATN- B) compliance to augment operational safety. Skyservice will use their STC to support other Learjet 45 operators requiring installation which helpsretain asset value while optimizing performance.
"Skyservice is one of the first MROs to comply with 9,600/10,000/14,800-hour inspections and has more than 30-years-experience in Learjet maintenance. The SD DLU is a proven product that supports more efficient Learjet 45 operations. With their support we are now positioned to be the facility of choice for these upgrades," said Paul Weeks, Vice President, Maintenance for Skyservice Business Aviation.
"Skyservice has a long legacy of excellent support for Learjet 45. Our DLU solution makes operating these aircraft saferand helps manage operating costs," said Robert Vega, Director of Product Management at SD. "Our DLU is already fitted on numerous aircraft and we're excited to have this newest STC available for the aviation industry. The upgrade allows operators to both reap the benefits of more efficient routes and preserve critical safety features including FANS-1/A compliance."
Photo caption:The Learjet 45 STC for SD DLU installation is already supporting operations for Skyservice aircraft. High res available on request.
About Satcom Direct: Satcom Direct (SD) and its companies provide global connectivity solutions for business and general aviation, military, government, and head of state aircraft. The company also provides land mobile services to areas with connectivity limitations. Since 1997, SD has worked to advance the technology of global connectivity, being first to market with many new capabilities in communications technology. SD's industry leading connectivity solutionsare complemented by their divisional capabilities including SD Avionics cabin and flight deck systems and SD software solutions. A premier Inmarsat distribution partner (including Jet ConneX), Iridium service partner, and Viasat preferred reseller, SD is also the exclusive service provider for SmartSky Networks, and the Master Distributor of Intelsat FlexExec.
SD World Headquarters and primary operations center is located in Melbourne, Florida, with additional office locations in the United States, Canada, UK, UAE, Switzerland, Hong Kong, Australia, Russia, Brazil, and South Africa. For more information regarding SD, visit www.satcomdirect.com, e-mail sales@satcomdirect.com, or call U.S. +1.321.777.3000 or UK +44.1252.554.460.
About Skyservice:Skyservice Business Aviation is a dynamic Canadian organization that is dedicated to the core principles of safety and service. With over 30 years' experience, Skyservice is the leader in the Canadian business aviation industry. With a diverse team of aviation experts and a commitment to exceptional service and outstanding levels of safety, Skyservice has earned its world-class reputation for excellence in aviation. At each of its four FBO locations in Toronto, Calgary, Montreal and Ottawa, Skyservice is dedicated to a full range of business aviation services, leading the industry in each of the following core business competencies: Aircraft Management, Charter, FBO, Aircraft Maintenance, Aircraft Sales and Brokerage. To learn more, visit skyservice.com.
xx
Thanks to
Media Contacts:
Satcom Direct
Jane Stanbury
Skyservice Business Aviation
Cathy Stewart-Beaulieu
Director, Marketing &Communications